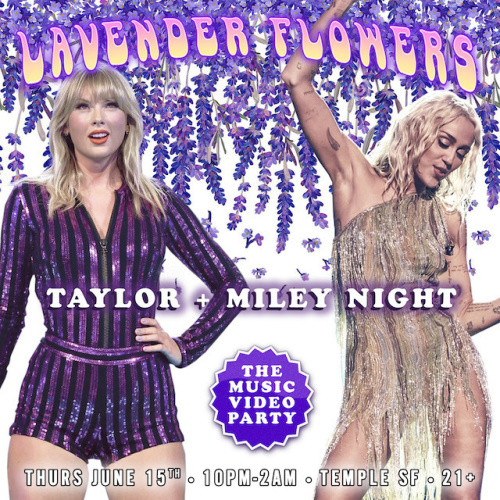 Temple Nightclub
540 Howard StreetSan Francisco CA, 94105
Get Directions
Thursday, Jun 15, 2023
Lavender Flowers: Taylor & Miley Music Video Party
Event Description
The MVP (Music Video Party) is Temple's newest weekly Thursday event. MVP parties host VJs who spin all of the newest and hottest music videos on Temple's giant LED wall. Each week will be a tribute to a different artist, or multiple artists.
This week we celebrate with Lavender Flowers: The Taylor Swift & Miley Cyrus Party. We'll be playing all the music videos from Taylor and Miley, plus we may sneak in a few from Ariana Grande, Justin Bieber, Harry Styles, Dua Lipa, Bayoncé, Rihanna, Shakira, and more pop stars.
Let's be honest, DJs are sometimes boring, but MVP VJs are much more than your average DJ, and our shows are more interactive than regular club nights. By adding the video element on the big screen for you to sing along to, it's almost as if you're watching your favorite artists perform live.
Are you tired of dedication parties only playing a few songs by the artists you came to hear? Or the DJs just repeating a few of their biggest hits over and over without going deeper into their catalogue? Well The MVP is much different. We play every hit single that the artist has dropped, but we also play rare cuts, features, remixes, unreleased tracks, lyric videos, live performances, earlier songs before they blew up, and album jams that weren't singles.
Music videos didn't die just because MTV and VH1 stopped playing them, so think of us as the new TRL.
Follow us on Insta for all updates: https://www.instagram.com/themusicvideoparty/
TICKET REFUND POLICY:
Temple Nightclub tickets are final sale and cannot be exchanged or refunded. In the case of an event cancellation without a rescheduled date, a full refund will be automatically issued to each patron on the credit card used to purchase. By purchasing a ticket to this event, you agree to this purchase policy. Before purchasing your tickets, we urge you to confirm the title, time and location of the event.
DRESS CODE POLICY:
Temple Nightclub has a strictly enforced dress code. We do not permit: hats, sandals, sneakers, shorts, ripped or baggy clothing and athletic wear.
Temple SF is a 21+ venue.
For VIP / Bottle Service, please contact: [email protected]