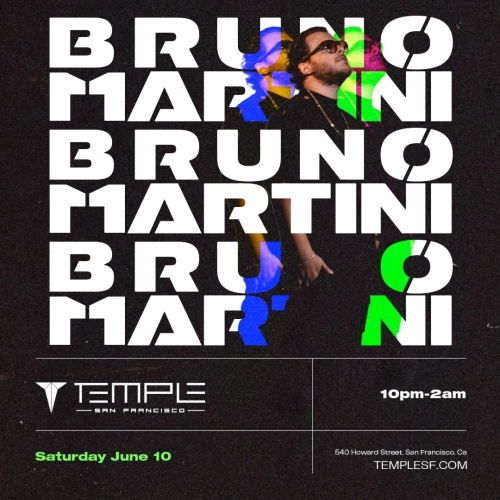 Temple Nightclub
540 Howard StreetSan Francisco CA, 94105
Get Directions
Saturday, Jun 10, 2023 @ 10:00pm
Bruno Martini
Event Description
Bruno Martini is an in-demand Brazilian musician, DJ, and producer whose songs straddle the line between lyrical indie pop and electronic dance music. Born in Sao Paulo in 1992, Martini grew up in a musical household the son of Italian musician and Double You-member Gino Martini. By his teens, he was writing and producing his own songs. In the mid-2000s, he befriended vocalist Mayra Arduini and formed the pop outfit College 11. They eventually became the first international act to sign with Disney, releasing a 2012 self-titled album and starring in the series Que Talento! Away from College 11, Martini began working on his own electronic-based tracks, collaborating with singer Marcos Zeeba and Alok. In 2016, the trio scored a hit with the single "Hear Me Now," followed a year later by the track "Never Let Me Go." Also in 2017, Martini signed a recording contract with Universal Music and produced "Living on the Outside" and "Sun Goes Down," the latter featuring Isadora.
Purchased tickets grant access to both events happening at Temple SF in the main room and LVL 55 downstairs.
Temple SF is a 21+ venue.
For VIP / Bottle Service, please contact: [email protected]
DRESS CODE POLICY:
Temple Nightclub has a strictly enforced dress code. We do not permit: hats, sandals, sneakers, shorts, ripped or baggy clothing and athletic wear.
TICKET REFUND POLICY:
Temple Nightclub tickets are final-sale. No refunds or exchanges are offered.