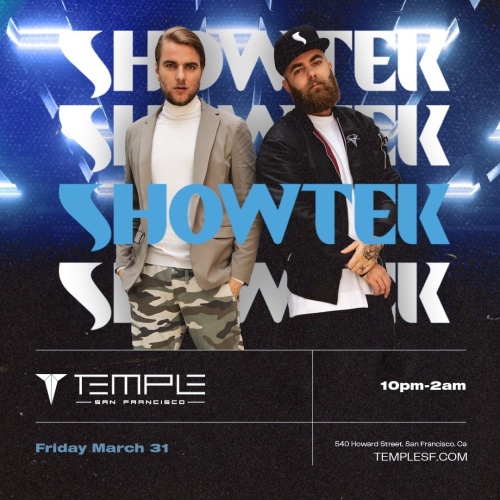 Temple Nightclub
540 Howard StreetSan Francisco CA, 94105
Get Directions
Friday, Mar 31, 2023 @ 10:00pm
Showtek
Event Description
Showtek is the globally-celebrated Dutch production duo composed of brothers Wouter and Sjoerd Janssen. They have dominated the international music industry with their melody-powered hooks, beat- heavy songs, memorable anthems and high energy performances. Initially, Showtek launched their career in electronic music as Hardstyle DJ/producers with undeniable success. Today, Showtek is recognized as undisputed lea-ders within the electronic dance music genre, boasting platinum-selling, chart-topping singles heard around the world. Over the past two years Showtek has be-come more than an act. They're a movement brought together by the producer duo and their fans. United by a love for music, excitement, artistic freedom and adventure.
Purchased tickets grant access to both events happening at Temple SF in the main room and LVL 55 downstairs.
Temple SF is a 21+ venue.
For VIP / Bottle Service, please contact: [email protected]
DRESS CODE POLICY:
Temple Nightclub has a strictly enforced dress code. We do not permit: hats, sandals, sneakers, shorts, ripped or baggy clothing and athletic wear.
TICKET REFUND POLICY:
Temple Nightclub tickets are final-sale. No refunds or exchanges are offered.