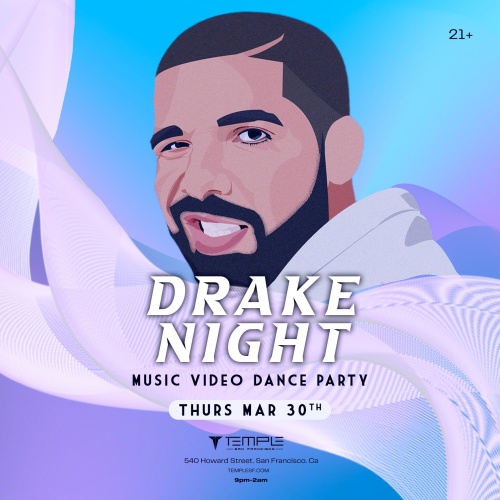 Temple Nightclub
540 Howard StreetSan Francisco CA, 94105
Get Directions
Thursday, Mar 30, 2023 @ 9:00pm
Drake Night
Event Description
Calling all Drake fans! Come to the Bay Area's biggest Drizzy party as we pay tribute to Champagne Papi and celebrate all of his smash hits. Sing and dance along to "God's Plan", "One Dance", "Hotline Bling", and every other single he's dropped.
We'll also be playing the hottest dance and Hip Hop tracks from The Weeknd, SZA, Nicki Minaj, Beyoncé, Doja Cat, Rihanna, and many more.
Temple is the premiere San Francisco nightclub, with the best LED wall and lighting display in the entire Bay Area. Their fully immersive room, and top of the line visuals makes these parties extra special. You won't want to miss this.
Hosted by Pop Music Video Night: An event with DJs spinning the music videos of all of the biggest hit songs on a giant screen. Each event pays Tribute to a different musical super star, or a versus night between 2 stars, but we also sneak in a few tracks from similar artists.
Are you tired of tribute nights only playing a few songs by the artists you paid to hear? Are you sick of parties saying they're also playing music videos, but they're just low quality loops of a few videos that don't even match the song playing? Are you fed up with bad DJs who don't even mix and just talk on the mic all night? Well these parties are much different, and we guarantee you a much higher quality experience with veteran video DJs who have been in the game for over 20 years.
Let's be honest, just watching DJs all night can get a bit boring, so our stage show is less centered on the DJs, and more focused on the big screen, with the DJs to the side. With your favorite music videos front and center, it's almost as if you're watching your favorite artists performing live with your friends. People who are a bit more shy on the dancefloor still have something to pay attention to if they don't feel like dancing, and the whole event feels more interactive because everyone is singing along and watching the videos together, and less people are on their phones (but the selfies you'll get in front of our video wall will look epic).
Music videos didn't die just because MTV and VH1 stopped playing them, so think of us as the new TRL.
Follow us on Insta for all updates: https://www.instagram.com/popmusicvideonight/
Thursday, March 30th
9pm-2am
Ages 21+
Presale $10
Door $20
Temple SF is a 21+ venue.
For VIP / Bottle Service, please contact: [email protected]
TICKET REFUND POLICY:
Temple Nightclub tickets are final-sale. No refunds or exchanges are offered.