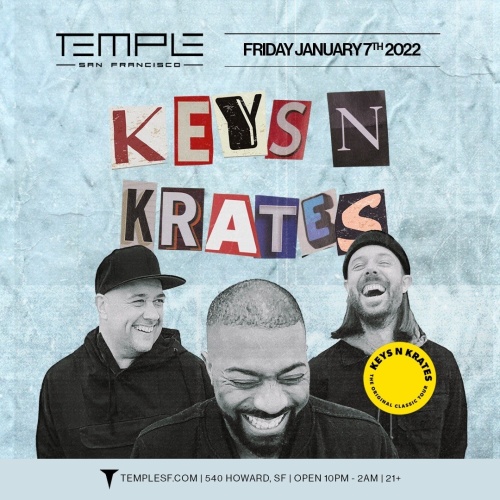 Temple Nightclub
540 Howard StreetSan Francisco CA, 94105
Get Directions
Friday, Jan 7, 2022 @ 10:00pm
Keys N Krates
Event Description
Since forming a decade ago in their native Toronto, Keys N Krates have carved their own path via a bass-centric, sample-driven sound, melding the realms of electronic, hip-hop and beyond. The group — composed of drummer Adam Tune, keyboardist David Matisse and turntablist Jr. Flo — has built a venerable reputation as one of the leading live electronic acts today on the strength of their onstage instrumentation and energetic sets.
Their early sound succeeded in combining catchy, pitched up, chopped vocal samples with 808s, resulting in off-kilter festival smashers like "Dum Dee Dum", "Treat Me Right", and other fan-favorites. These songs would be reinterpreted into energetic live versions that the trio would play to create their own experience and vibe. Their songs original versions would also be played by legends of their genre like TNGHT, Diplo, Machinedrum, Baauer, and more — helping to cement Keys N Krates as a fixture in festival bass and trap music.
Keys N Krates' 2018 debut album Cura represented a musical shift for the band. Although the use of pulverizing 808s, organic sounds, and vocal samples would remain a fixture for the trio, Keys N Krates embraced their love for R&B/soul music, more dense instrumentation (such as strings and woodwind instruments), and catchy vocal-driven pop songs.
Anthemic songs with Tory Lanez, Ambre Perkins, and 070 Shake weaved together the band's technicolor world of vocal-driven songs supported by sample-chopped beats that blended the sounds of disco, trap, and boom bap rap of the 90s. This synthesis earned
them commercial radio success and spins from some of their idols on specialty radio —like Elton John and Q-Tip. "Flute Loop" reached back to the trio's traditional stripped-down 808 sound while incorporating their new techniques of orchestration and resampling to compliment the minimal with the maximal.
Their latest full-length project, 2019's A Beat Tape For Your Friends, further elevates their craft as they pay homage to their sample-chopping musical influences like Jay Dilla. It's a collection of infectious, loopy, instrumental beats that shows the seeds their music grows from.
Temple SF is a 21+ venue.
For VIP / Bottle Service, please contact: [email protected]
COVID-19 MASK MANDATE & ENTRY REQUIREMENTS UPDATE(S):
Until further notice, all persons entering Temple SF must wear a face mask at all times, regardless of vaccination status (masks may be removed when actively drinking). To gain entry to Temple SF, all guests must provide proof of full-vaccination against COVID-19, per city/county mandate. 
Thank you for doing your part to keep our employees, guests and community safe & healthy.