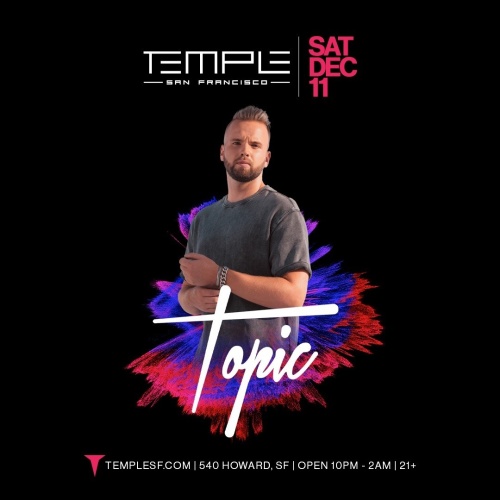 Temple Nightclub
540 Howard StreetSan Francisco CA, 94105
Get Directions
Saturday, Dec 11, 2021 @ 10:00pm
Topic
Event Description
You don't have to create entirely new music genres to stand out in the music business, but it does take some type of unique characteristic to stay in the heads of listeners. With his distinctive sound, Topic has successfully managed to set himself apart and has been setting new standards in the EDM genre ever since.
The German/Croatian DJ and producer banks on emotional and grief-stricken lyrics, paired with a positive, exhilarating sound, which together form a completely new sub-genre called "melancholic dance music." The term describes songs that affect listeners emotionally, but also animate them to dance. On the music business' radar since 2014, he celebrated his global breakthrough in 2020 with "Breaking Me."
The foundation of Topic's career was laid early on: His music teacher introduced him to the audio production software Logic Pro, which instantly fascinated him and sparked his interest in producing. And so Topic began producing for others and experimenting with all kinds of different genres: hip hop, house, dance, pop, and so on.
Safe to say it's done it justice with hitting #1 US dance charts, #1 airplay in numerous countries, the top ten single charts in countries such as UK and Germany, peaking at #24 in the Spotify global top 100 and reaching over 240M streams across all DSPs already.
Topic was most recently announced as a Billboard Music Award 2021 finalist with "Breaking Me" in the category "top dance/electronic song" and prior has been nominated for the MTV Europe Music Awards 2016, the Teen Choice Awards 2018 as well as for the biggest radio awards in Spain (Los40), Germany (1 Live Krone) and France (Fun Radio).
Temple SF is a 21+ venue.
For VIP / Bottle Service, please contact: [email protected]
COVID-19 MASK MANDATE & ENTRY REQUIREMENTS UPDATE(S):
Until further notice, all persons entering Temple SF must wear a face mask at all times, regardless of vaccination status (masks may be removed when actively drinking). To gain entry to Temple SF, all guests must provide proof of full-vaccination against COVID-19, per city/county mandate.
Thank you for doing your part to keep our employees, guests and community safe & healthy.