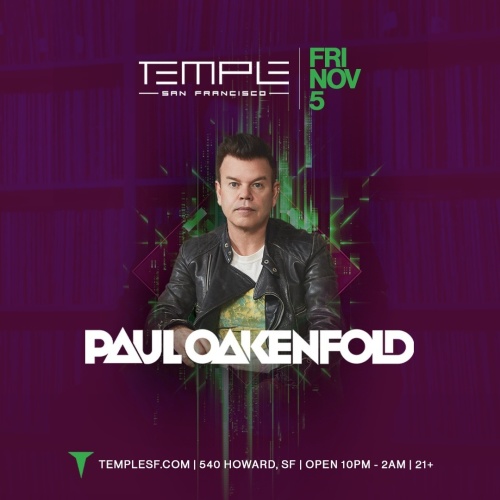 Temple Nightclub
540 Howard StreetSan Francisco CA, 94105
Get Directions
Friday, Nov 5, 2021 @ 10:00pm
Paul Oakenfold
Event Description
Paul Mark Oakenfold, formerly known mononymously as Oakenfold, is an English record producer and trance DJ. He is a three-time Grammy Award and two-time World Music Awards nominee. He was voted the No. 1 DJ in the World twice in 1998 and 1999 by DJ Magazine. Oakenfold has provided over 100 remixes for over 100 artists including U2, Moby, Madonna, Britney Spears, Massive Attack, The Cure, New Order, The Rolling Stones, The Stone Roses and Michael Jackson.
Paul Oakenfold describes his early life as a "bedroom DJ" in a podcasted interview with Vancouver's 24 Hours, stating he grew up listening to The Beatles.
Oakenfold's musical career began in the late 1970s, when he met Trevor Fung and began helping him DJ soul music in a Covent Garden wine bar. Here in London, he also met Rumours where he played Earth, Wind and Fire and popular British bands.
In 1981, 18-year-old Oakenfold and his friend Ian Paul moved to New York City. Oakenfold worked as a courier in West Harlem. During this time, hip-hop was overtaking dance music as the most popular sound in the area (see 1984 in music). Oakenfold and Fung used fake identification to sneak into various dance clubs, like Studio 54, where they met members of the band Maze, Bobby Womack and Bob Marley, whom they also interviewed, claiming to be NME and Melody Maker journalists.
Returning to London, Oakenfold began breaking into the mainstream, as an A&R man for Champion Records. At that time, he signed DJ Jazzy Jeff and the Fresh Prince, as well as Salt-n-Pepa. Oakenfold appeared on the Blue Peter BBC programme for children with a breakdancing crew. He became a promoter and British agent for the Beastie Boys and Run-D.M.C.. Since then, he appeared at The Project in Streatham playing soul and jazz music.
Temple SF is a 21+ venue.
For VIP / Bottle Service, please contact: [email protected]
COVID-19 MASK MANDATE & ENTRY REQUIREMENTS UPDATE(S):
Until further notice, all persons entering Temple SF must wear a face mask at all times, regardless of vaccination status (masks may be removed when actively drinking). To gain entry to Temple SF, all guests must provide proof of full-vaccination against COVID-19, or a negative COVID-19 test from within 72 hours of the event (PCR or Antigen tests only). 
Thank you for doing your part to keep our employees, guests and community safe & healthy.