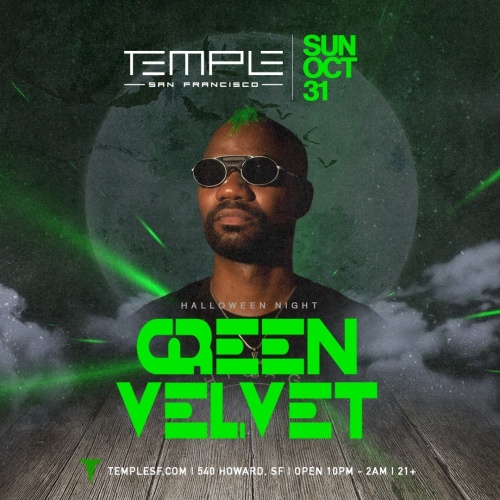 Temple Nightclub
540 Howard StreetSan Francisco CA, 94105
Get Directions
Sunday, Oct 31, 2021 @ 10:00pm
Green Velvet
Event Description
Curtis Alan Jones, better known by his stage name Green Velvet, is an American singer, record producer & DJ. He is also known as Cajmere, Geo Vogt, Half Pint, Curan Stone, and Gino Vittori.
In 1991, Jones started releasing his music under the Cajmere moniker. In 1992, he founded a record label, Cajual Records. In that year, he released a collaborative single with Dajae, titled "Brighter Days" that peaked at number 2 on the Billboard Hot Dance Music/Club Play chart. In the same year, he released the single "Coffee Pot (It's Time for the Percolator)" also known as "Percolator". Rolling Stone included it on its "20 Best Chicago House Records" list in 2014 while Mixmag included it on its "20 Best US Rave Anthems of the '90s" list in 2019. In 1993, he founded another label, Relief Records.
In 1995, he released a single, "Flash", under the Green Velvet moniker. It reached number 1 on the Billboard Dance Club Songs chart. Billboard included it on the "10 Essential '90s Rave Jams" list in 2019. Mixmag included it on the "20 Best US Rave Anthems of the '90s" list in 2019.
Green Velvet's debut studio album, Constant Chaos, was released in 1999. In 2000, he released a compilation album, Green Velvet. He released Whatever in 2001, Walk in Love in 2005, and Unshakable in 2013.
In 2014, he teamed up with Claude VonStroke to form the side project Get Real. The duo's debut single, "Mind Yo Bizness" / "Snuffaluffagus", was released in 2016. The duo's second single, "Jolean", was released in 2019.
DJ Mag has described Green Velvet as "a stalwart figure in both house and techno".
Temple SF is a 21+ venue.
For VIP / Bottle Service, please contact: [email protected]
COVID-19 MASK MANDATE & ENTRY REQUIREMENTS UPDATE(S):
Until further notice, all persons entering Temple SF must wear a face-covering (well-fitted mask) at all times, unless actively drinking. To gain entry to Temple SF, all guests must provide proof of full-vaccination against COVID-19. Per the 'Safer Return Together' Health Officer Order (C19-07y *updated*) we will no longer allow negative tests for entry to Temple SF, only proof of full vaccination (14 days from final dose).
Thank you for doing your part to keep our employees, guests and community safe & healthy.