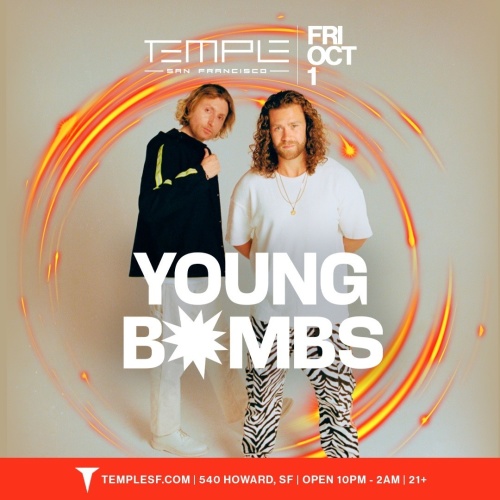 Temple Nightclub
540 Howard StreetSan Francisco CA, 94105
Get Directions
Friday, Oct 1, 2021 @ 10:00pm
Young Bombs
Event Description
Young Bombs are a Canadian electronic music duo currently signed to Sony Music Canada. The duo is based in Vancouver, Canada and is composed of DJ/producers Tristan Norton and Martin Kottmeier. Starting in 2014, the pair began working on remixes for acts like The Chainsmokers, Lady Gaga, Billie Eilish, Galantis, and numerous others. In 2019, they began releasing original music for the first time with the single, "Starry Eyes", which reached No. 31 on the Dance Club Songs chart.
Tristan Norton and Martin Kottmeier are both natives of Vancouver, British Columbia and met while playing in different bands in high school. The two began making music together and eventually moved to Los Angeles to form part of the backing band for a pop artist. They moved back to Vancouver some time after and began writing jingles, including one for Pizza Hut. The two also initially wanted to form an indie rock band. The name "Young Bombs" comes from a short-lived band they formed with another friend. The two decided to focus on EDM after Kottmeier took an interest in the genre.
In 2014, the two released various remixes of songs by acts like Galantis ("You"), Cazzette ("Sleepless"), and Sigma ("Nobody to Love"), among others. In 2015, Young Bombs played their first live show, opening for The Chainsmokers at New City Gas in Montreal. That year, they also continued releasing remixes, including those for Nick Jonas ("Teacher"), Secondcity ("I Wanna Feel"), and Fletcher ("War Paint"). In 2016, the pair played in Las Vegas for the first time, again opening up for The Chainsmokers at Hakkasan. New remixes that year included those for acts like Billie Eilish ("Ocean Eyes"), Troye Sivan ("Wild"), and Rozes ("Burn Wild"), among others.
Temple SF is a 21+ venue.
For VIP / Bottle Service, please contact: [email protected]
FEATURED DJ