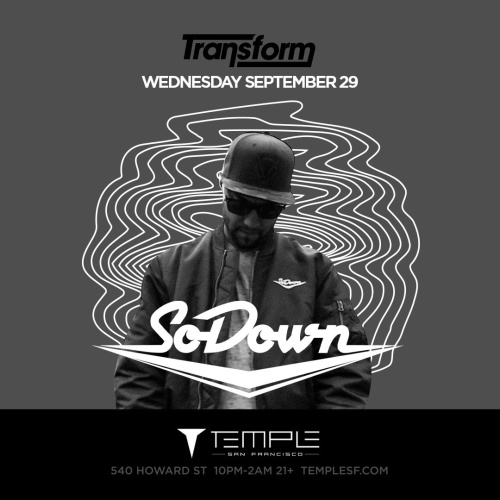 Temple Nightclub
540 Howard StreetSan Francisco CA, 94105
Get Directions
Wednesday, Sep 29, 2021 @ 10:00pm
SoDown
Event Description
Ehren River Wright (born Dec 17, 1989), known by his stage name SoDown, is an American electronic music producer, DJ, and saxophone player.
As a Boulder, Colorado native, Ehren Wright (SoDown) grew up listening to hip hop, funk, soul, and reggae, drawing on influences from Wu-tang Clan, Method Man, The Meters, Parliament, and James Brown.
Wright began his exploration into electronic music after seeing Pretty Lights perform at Red Rocks Amphitheatre (Denver, CO) in 2010. In 2017, SoDown announced his debut performance at the very place he had become introduced to the scene performing at Red Rocks Amphitheatre supporting Pretty Lights on August 11, 2017. "Red Rocks kick started my whole interest in music. It really pushed me in this direction, so to come back and play with Pretty Lights and Manic Focus was full circle".
Temple SF is a 21+ venue.
For VIP / Bottle Service, please contact: [email protected]
COVID-19 MASK MANDATE & ENTRY REQUIREMENTS UPDATE(S):
Until further notice, all persons entering Temple SF must wear a face-covering (well-fitted mask) at all times, unless actively drinking. To gain entry to Temple SF, all guests must provide proof of full-vaccination against COVID-19. Per the 'Safer Return Together' Health Officer Order (C19-07y *updated*) we will no longer allow negative tests for entry to Temple SF, only proof of full vaccination (14 days from final dose).
Thank you for doing your part to keep our employees, guests and community safe & healthy.