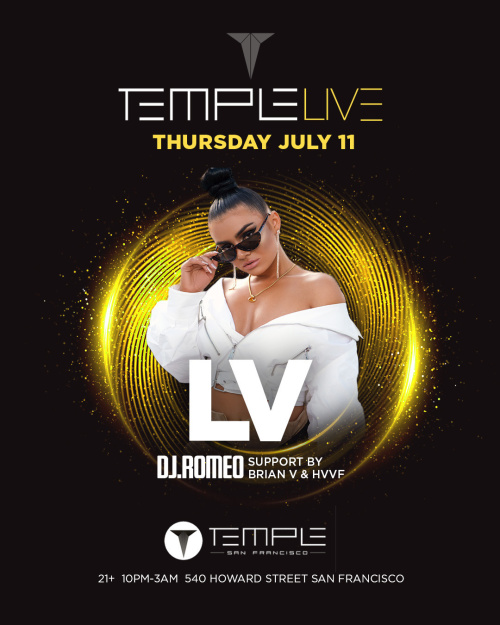 Temple Nightclub
540 Howard StreetSan Francisco CA, 94105
Get Directions
Thursday, Jul 11, 2019
Temple Live feat LV
Event Description
Temple Live feat LV
LV is an independent American pop recording artist. Performing all over the United States for huge benefactors such as the NBA, NFL, HBO PPV Boxing, and the Orange Bowl (as the halftime performer)
After moving from Phoenix to South Florida, LV teamed up with multi-platinum selling artist and industry executive, J'Von "4Mill" Thomas, CEO of Section808, CEO of Game Over Music Group, and President of Strong Arm.
LV has multiple singles with over 1,000,000 views and/or streams across all digital platforms.
Love You A Lot is the lead single of LV's debut EP "XCITED", coming to all digital and physical stores in August!
Music by Romey Reyes
Support by Brian V and DJ Hvff
Temple is the nation's first award-winning "green" venue to host world-class nightlife entertainment with an immersive audio-visual environment.  The 20,000-square-foot nightclub encompasses four rooms, each with its own distinctive design and intelligent LED lighting.
Contact us at 415.312.3668 or [email protected] for VIP Table Reservations.
This is a 21+ event