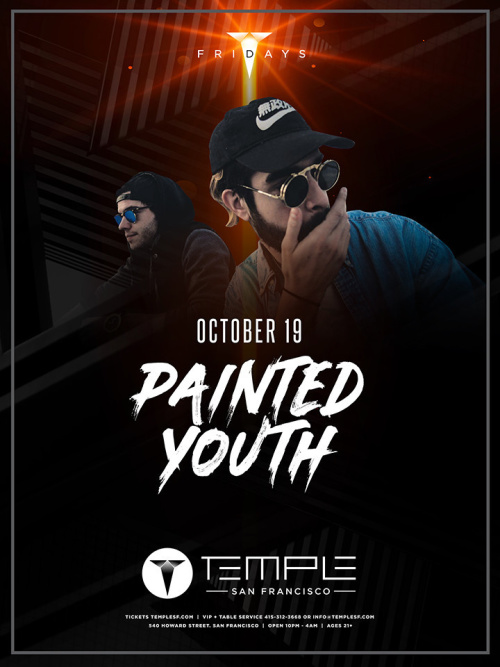 Temple Nightclub
540 Howard StreetSan Francisco CA, 94105
Get Directions
Friday, Oct 19, 2018
Painted Youth
Event Description
Temple Presents Painted Youth
Fueled by the light, sound, and color of the electronic community— Painted Youth encompasses the unique vibrations of the contemporary dance movement. They provide an energizing and safe space where aficionados of beats, bass, and rhythm can escape inward and celebrate what it means to be alive. A newly devised collaboration, Painted Youth is an intricate reimagining of dance music. Its collaborators have shared the stage with EDM legends such as Illenium, Afrojack, Yellow Claw, Vicetone, Valentino Khan, Showtek and others. Painted Youth's upcoming single "Painting Youth feat. Akeera" exemplifies their progressive and electrifying sound and precedes the duo's inevitable position and longevity in the world of Electronic Dance Music. 
soundcloud.com/paintedyouthmusic
Contact us at 415.312.3668 or [email protected] for reservations.

This is a 21+ event.